The Zero Exposure Manifesto
An Appeal to Media Savvy Professionals for Climate Action
This post was originally published at the Getting to Zero Forum of the New Buildings Institute (NBI)
---
By: Smita Chandra Thomas and Jennifer Jang
Media and buildings professionals, picture this – James Bond stands in an edgy all-glass penthouse, working on a computer. He squints in the sunlight bouncing off his screen and rolls the shades down to cut the glare. His view of the city lost, he takes a seat. A villain's heat-sensing camera pans across the glass walls looking for Bond; the yellow-orange hot spot created by Bond's body heat gives him away. Blue plumes of cool air draft down the glass he is seated next to; Bond reaches for his space heater to keep warm.
What's wrong with this picture? It breaks the fantasy of life in glamorous glass buildings.
GLASS BUILDINGS DON'T BELONG IN THE 21ST CENTURY 
Glass box buildings are to climate activists what fur coats are to animal lovers. Some may see it as a lifestyle choice, but for others concerned about the climate crisis, an outright ban sounds about right.
What!? A ban on glass buildings? Don't glass buildings represent the modern world, with their abundant daylight and views? We are told new "smart" glass technologies are efficient, that they are "green".
Let's look at the real picture.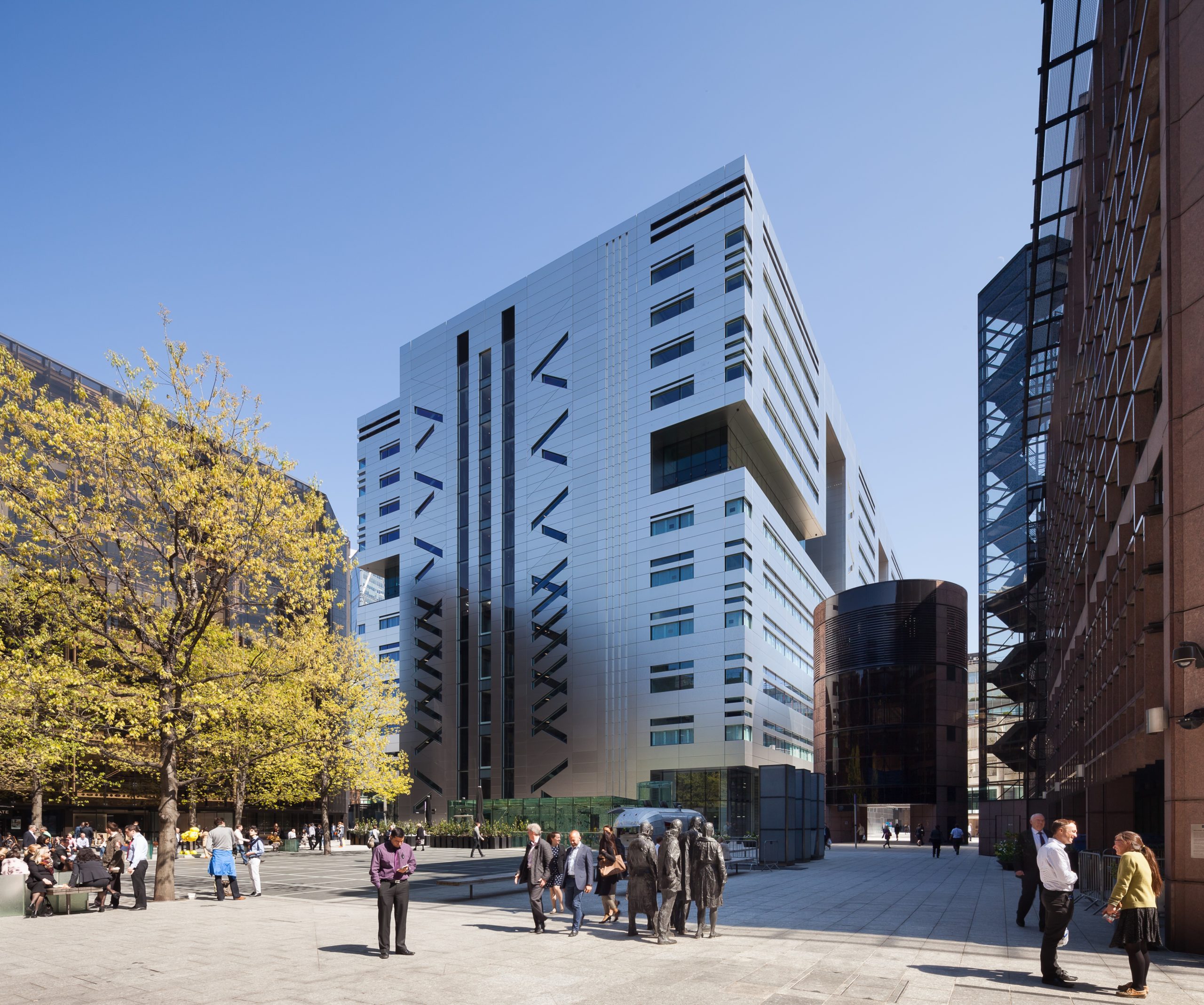 Figure 1. Broadgate in London (pictured above) is designed by Ken Shuttleworth, the architect of famous glass buildings. He no longer thinks it's sensible to build all-glass facades. Photo credit: John Madden/Make Architects
GLASS BUILDINGS ARE GAS GUZZLERS 
Glass walls are an abjectly poor thermal enclosure in most climates—highly conductive, they guzzle energy from mechanical systems to keep a building comfortable. Our Triple Pundit article from a few years ago and a more recent World Bank post showed that even the "smartest" glass can't hold a candle to a well-insulated wall. New York City Mayor Bill de Blasio stated his intentions for better energy performing skyscrapers. The Sustainability Chairman of the Royal Institute of British Architects (RIBA) urged London to consider a glass tower ban. Simon Sturgis, chairman of the RIBA sustainability group told the Guardian that, "If you're building a greenhouse in a climate emergency, it's a pretty odd thing to do, to say the least."
That's a fine example of British understatement.
Besides, glass walls are higher in embodied carbon than most insulated walls, twice as expensive as window walls, require more time and skilled labor to build, provide lesser acoustic comfort, and cause glare and discomfort.
WHY DO WE STILL SEE GLASS BUILDINGS GOING UP ALL AROUND US?  
Ask any major developer and they will tell you their research shows it's what the market wants and is willing to pay a premium for.
So, the real question is: why does the market still want glass buildings?
1. It's hard to connect the dots
Most of the climate-worriers are simply not aware of the energy impacts of glass buildings. Even though there is a real sense of urgency about climate change, most people are not busy analyzing building energy models and connecting the dots between glass walls and energy use.
2. Glass buildings are tied to sustainability in the media
Modern buildings that win awards for being "green" get featured with shiny glass facades. This leads to the perception that green and glass are intrinsically tied together. For example, this excerpt from a congratulatory letter from a director at a Maryland property management firm to his team on achieving LEED Platinum certification states: "Generally LEED platinum certification is bestowed upon new, sleek, glass and steel high rises that were specifically designed for maximum environmental benefit." The irony is that Green buildings are green in spite of glass, not because of it. But thanks to media imagery, consumers believe that glass in buildings is the hallmark of sustainable design.
3. The mere-exposure effect
The mere-exposure effect in psychology alludes to the idea that when people are repeatedly exposed to something, they start to develop a ready familiarity, or perceptual fluency, which leads to positive affect. This phenomenon is understood by marketers and politicians, who joke that "there is no such thing as bad publicity." Glass buildings are depicted in the media all too frequently in the contexts of modernity, luxury, and power. By framing glass in such an appealing way, the media shapes positive public opinion about glass buildings.
We have been here before with cigarettes and sugar.
What the media says matters.
THE ZERO EXPOSURE MANIFESTO 
This is a call to action for media and buildings industry influencers; it's an opportunity to lead and influence by glamorizing climate-sensible design. Examples are aplenty of beautiful buildings that possess attractive and climate-appropriate building skin. The photographer's lens needs to seek out the truly green features that make a building comfortable and energy-efficient – well-placed windows, efficient equipment, smart sensors, the insulation in the walls that keeps them toasty.

Will you put your name to this call? Add your name to the Manifesto.
P.S. No pictures of all-glass buildings were used in this article.
SIGNATORIES
Ommid Saberi, Senior Industry Specialist-Green Buildings, Climate Business Department, IFC (a member of the World Bank Group)
Rebecca Menes, Global Marketing and Brand Management, EDGE green buildings, IFC
Abdullah Aldakheel, Medical Student, Dar Al Uloom University
Jennifer Jang, Business Manager, Energy Shrink
Kim Shinn, Principal, TLC Engineering Solutions