New Year Greetings and Annual Updates 2019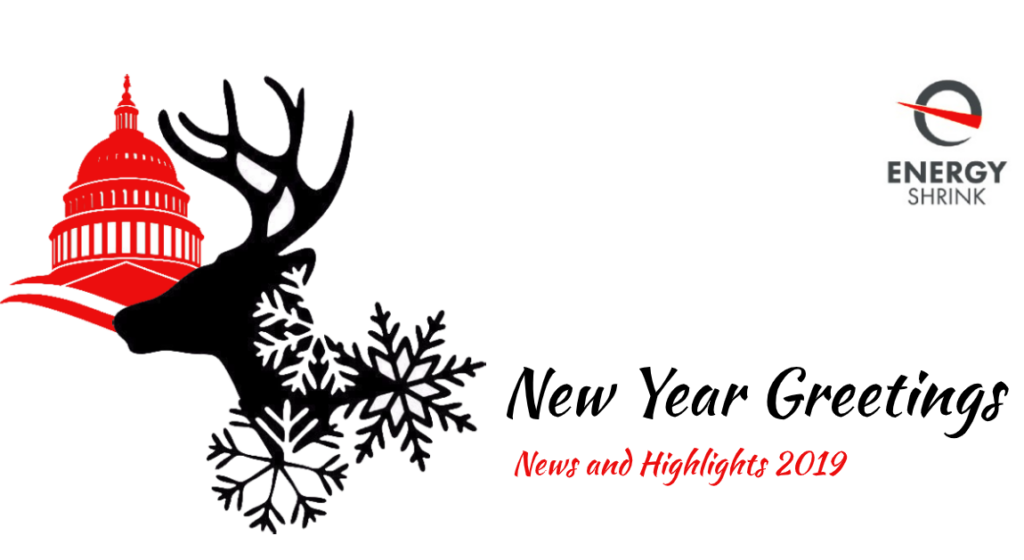 A happy new year to you from Energy Shrink. Our annual newsletter is a little late this year, and for good reason! We didn't want to send it out without announcing that ..
WE ARE A CERTIFIED CBE IN DC
Our official headquarters have moved to Washington, D.C. where Energy Shrink celebrated its 4th anniversary.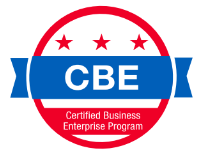 Potential partners, take note! – we are now a registered Certified Business Enterprise (CBE) in Washington D.C.  Energy Shrink continues to maintain its status as a certified small woman-owned business in Maryland and California along with our Federal certification.
HIGHLIGHTS OF 2019
What a year 2019 was all around! Global and regional communities were setting ambitious new goals in response to the dawning sense of climate crisis, and we were grateful to have been a part of some of the most promising new initiatives. Here's a whirl through our highlights from last year.
Energy Shrink is a mission-driven company focused on decarbonizing buildings with building science. We ask timely questions, pursue innovative solutions fearlessly, and dig deep for the best answers. We believe in our work and in our common future.
OUR WORK
GLOBAL
In tandem with global Zero Energy and Zero Carbon initiatives, it was our honor to work on some inspiring initiatives in our fourth year working with the EDGE green buildings program at IFC (World Bank) where Smita Thomas helped:
draft the new Zero Carbon Certification protocol
draft a governance protocol for the EDGE Building Label pilot
create an 8-module university course to train architecture students in building science applications (now being taught at top universities in several countries)
update the user guides for EDGE software and continued to support EDGE project teams worldwide.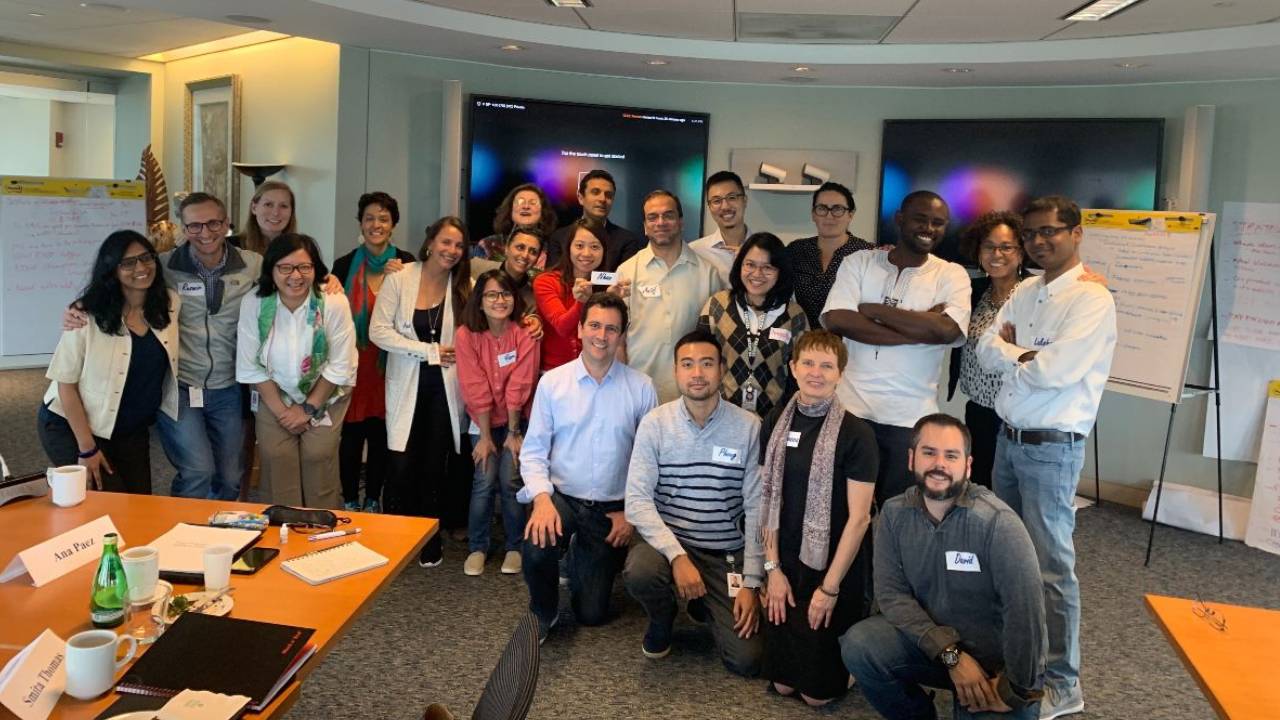 NATIONAL
Smita Thomas served as a reviewer for the Small Business Innovation Research (SBIR) Grants at the Department of Energy; and is currently reviewing chapters for Project Drawdown.
LOCAL
In our local DC-Maryland-Virginia (DMV) region, Zero Carbon and Net Zero goals are getting baked into several programs – both in the private and public sector.
DC adopted the nation's strongest climate law at the end of 2018 and last year started getting ready to implement the Building Energy Performance Standards (BEPS) which will go into effect in 2021 under which existing buildings must achieve a 20% reduction in EUI over a 5-year period. Sensing a gap between ambition and implementation, government agency leaders in DC, Maryland and Virginia initiated the DMV Net-Zero Energy Coalition, which has had overwhelming interest from the community.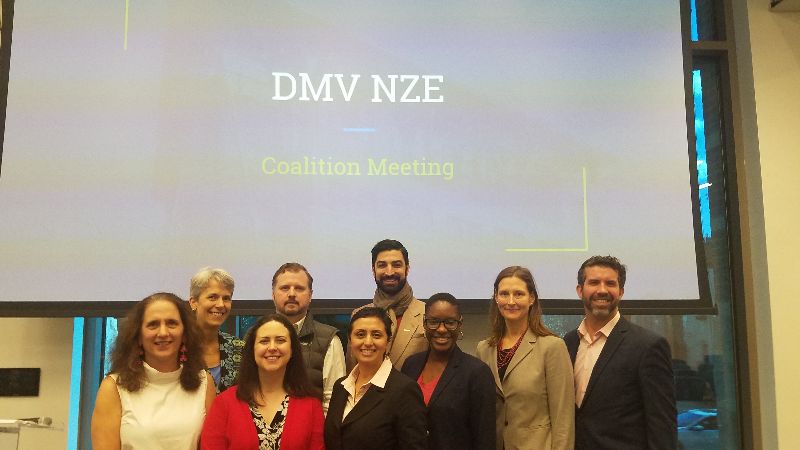 Smita Thomas is serving on the leadership group of the Coalition, helping craft its vision and mission and setting strategy for future activities.
Smita Thomas also served as board member on the USGBC-NCR MLAB (Market Leadership Advisory Board) helping advance the regional green buildings movement.
We continue to benchmark buildings for our clients in DC – take note! 2021 data will be required for buildings 25,000 square feet or greater.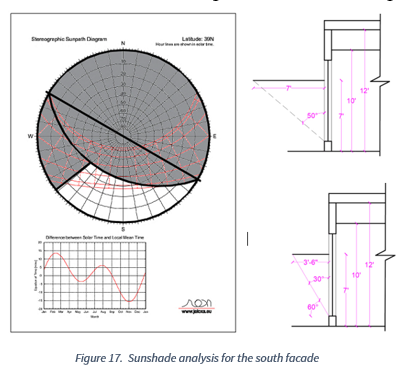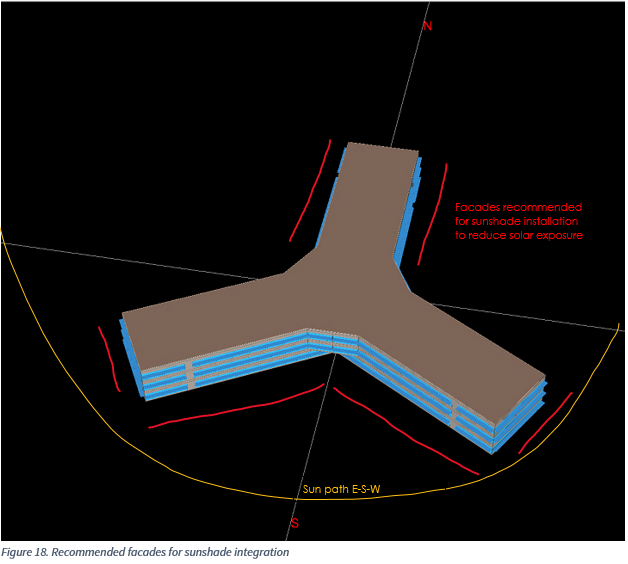 In Maryland:
We prepared a Capital Improvements Proposal for the US headquarters of Astra Zeneca in Gaithersburg, MD — a package of recommendations for potential envelope upgrades — with cost estimates, energy savings and payback calculations
We won a prime contract with the Maryland Environmental Service (MES) to conduct community outreach for the Maryland Energy Administration Community Solar Program which we are delivering with our partners She Wolf Communications and Assedo Consulting.
We continue to support the Green Business certification program of the Montgomery County Department of Environmental Protection with our partners, Ensight Consulting and The Eymit Group since 2017.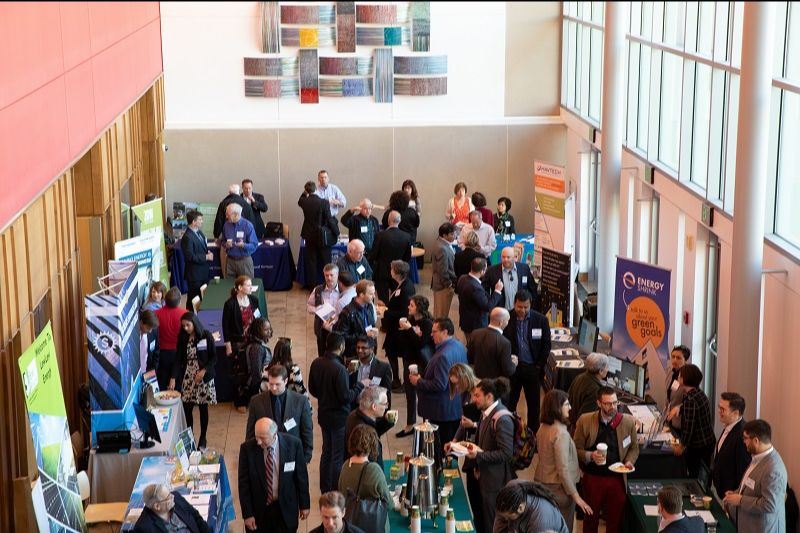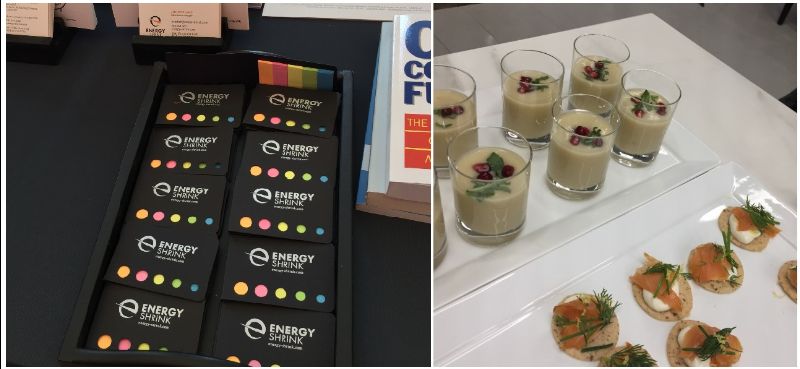 We broadened our outreach by sponsoring important summits, including the regional Energy Summit of USGBC and the Montgomery County Department of Environmental Energy Protection in April and the very first regional Summit for Net Zero Energy Schools in October (spot our booth in the picture above).
Smita Thomas served on a working group at Montgomery County to draft a proposal for a Commercial/Multifamily Green Building Incentive tax incentives which is being evaluated by the County. Appropriately enough, on Earth Day this year, the Montgomery County Government recognized Smita Thomas for her environmental advocacy efforts.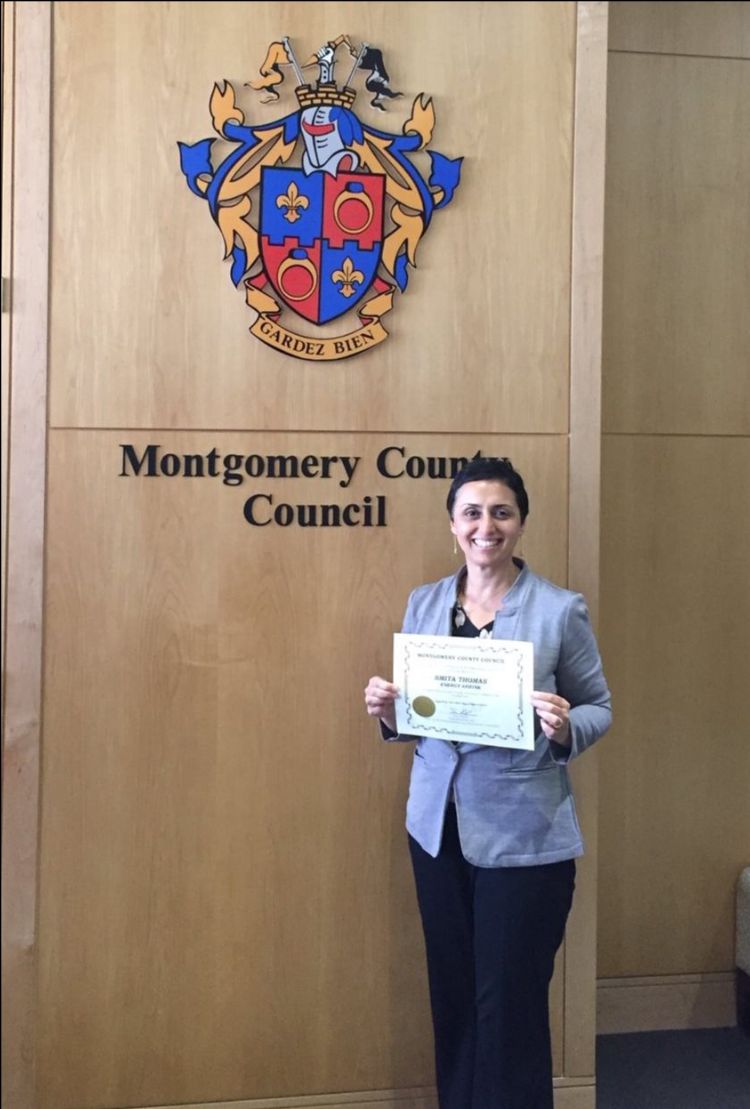 In Virginia, the Fairfax County School Board issued the largest solar power purchase agreement in the state for a municipality in December 2019 and won an award for leading the state in energy efficiency.
Smita was nominated to the Joint Environmental Task Force (JET), a group jointly created in 2019 by the Fairfax County Board of Supervisors and the County School Board to focus on climate change, energy and other environmental issues.
OUR PARTNERSHIPS
Through our work and our partnerships, we continue to broaden the scope of services we can offer our clients in the area of energy efficiency and decarbonization of the building sector.
Smita Thomas is now a member of the stellar group of advisors at DMV Strategic Advisors, a group that offers deep expertise in regional policy and programs. With Roger Berliner and Jay Fisette at the helm, the group is poised to do great things in the DC metro region.
We also signed MOUs with Ensight Consulting and BA Consult welcoming them into the Energy Shrink Circle.
We bolstered our energy modeling capabilities with a team of experts to deliver complementary expertise.
Energy Shrink led a partnership with Vidaris and PNNL on a DOE funding opportunity for research; we have entered the final round.
We are collaborating with LilkerEMO on a net-zero classroom prototype for the New York City school system.
OUR VOICE
WE ALSO CONTINUE TO LISTEN AND LEARN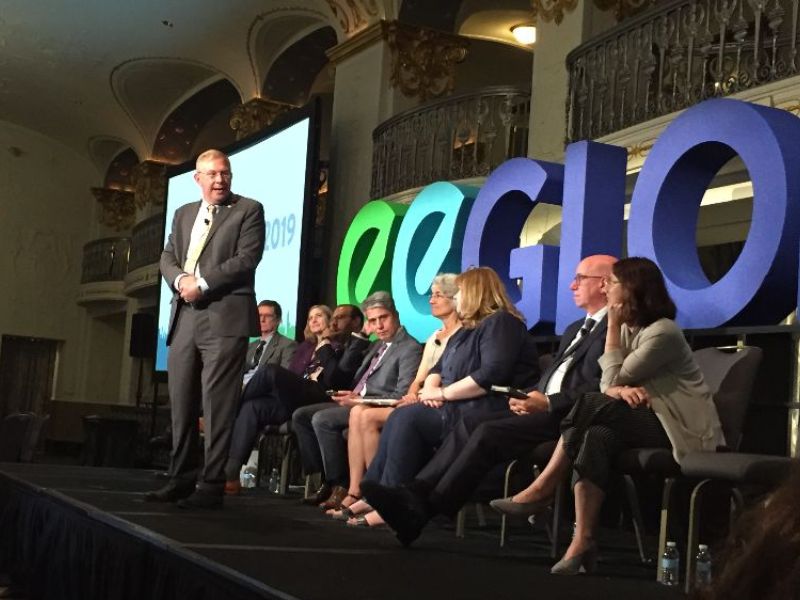 Where you may have spotted us in 2019:
World Resources Institute HQ, Stories to Watch event
eeGlobal conference of the Alliance to Save Energy
National Passive House Conference in DC
WUFI Plus Dynamic workshop
AGU Net-Zero building hard hat tour
DMV Net-Zero Energy Coalition Kick-off and subsequent events
Montgomery County Energy Summit in Silver Spring (we had a booth)
MedImmune Net Zero building, after the Energy Summit
Net Zero Schools Summit in Silver Spring (we had a booth)
DOE Building Technologies Office Peer Reviews
DOE Better Buildings Summit
WCEE Lunch and learn events
USGBC NoVA Chapter meeting
Green New Deal policy makers pow-wow in DC
ULI HQ, Sustainability Initiative council meeting
Women in Green breakfasts
Building Energy Performance Workshop in Montgomery County
GreenTie Affair
Midsummer's Night Green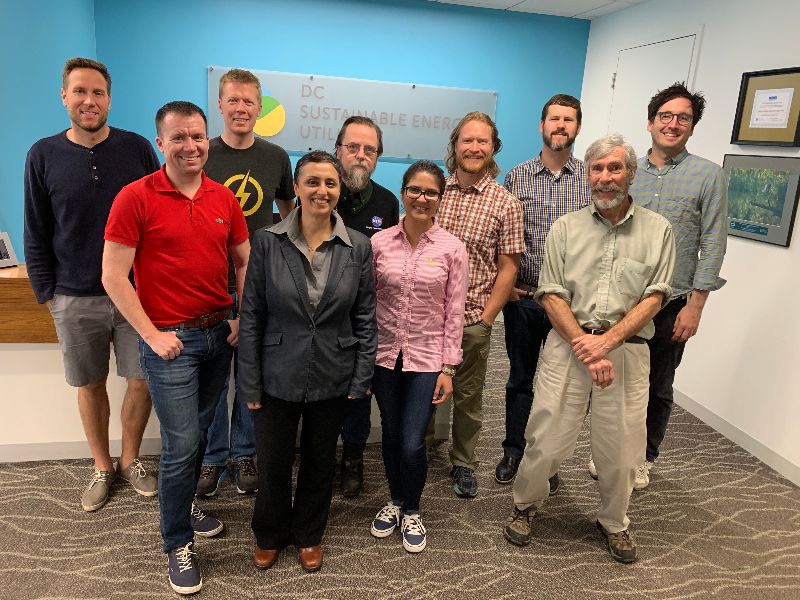 New in 2019!  Smita earned the PHIUS Certified Passive House Consultant (CPHC) certification.
LOOKING AHEAD TO 2020
More than ever, our collective work is critical in this new decade. Our mantra for this decade is #ClimateAction. Our core mission to facilitate the market adoption of energy efficiency remains steady, while climate change drives our efforts with greater urgency.  We head into this new year of a new decade armed with intent and a plan in three main areas:
1) Stay on mission
2) Expand our project portfolio
3) Scale up and out…
… as well as continuing to provide energy modeling, benchmarking and sustainable design advisory services, we will expand partnerships with more efficiency program providers and policy initiatives for the greatest impact.
Together we can create our preferred future!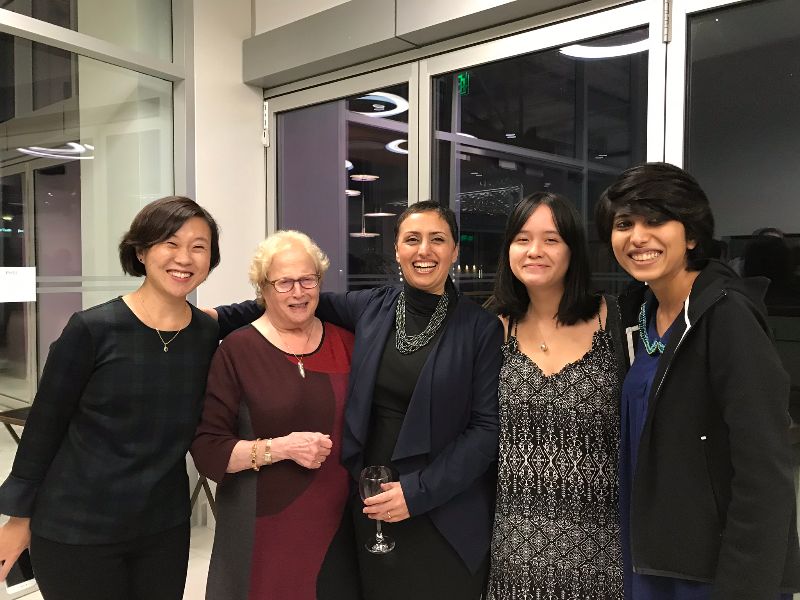 Energy Shrink team members past and present at the annual soiree in November 2019
From all of us at Energy Shrink, we wish you an environmentally-friendly, safe and happy 2020!
With warm regards,
Smita Chandra Thomas and Jennifer Jang
[download id="1024″]