2022 Summer Highlights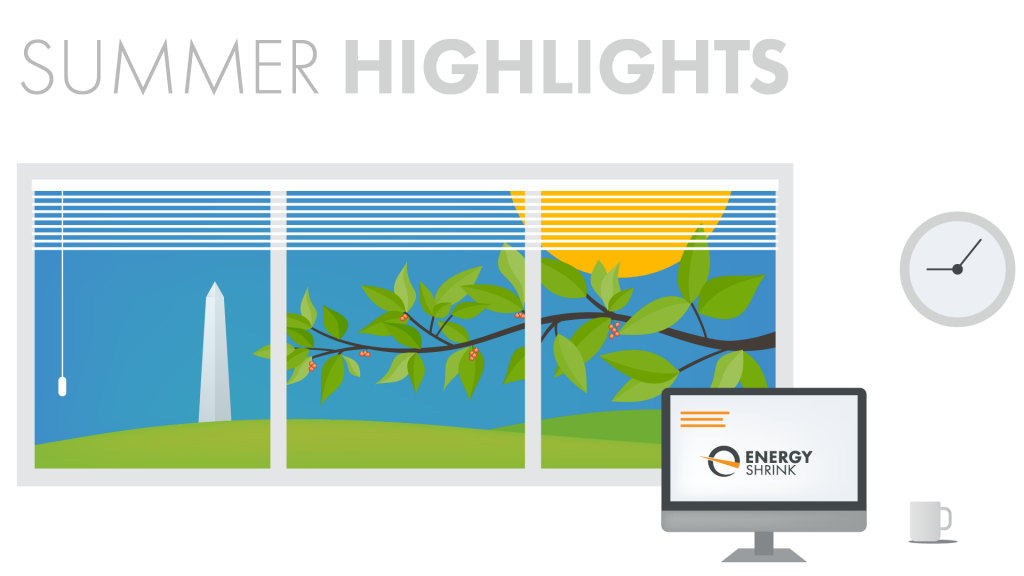 How's your summer going? Hope the long days are going as slow and easy as you'd like them to. Sharing a few nibbles for you to go with your tall drinks…
DC Turns Up the Heat on Decarbonization
The DC Council upped the game this month (July 2022) on the original Clean Energy DC Act 2018 — which mandated 50% carbon reduction by 2032 — by unanimously passing two new bills that will speed up this process.
What's in the new bills?
The Climate Commitment Act
Codifies the city's greenhouse gas reduction goals, and accelerates them, committing to

carbon neutrality by 2045

instead of 2050, with the interim goal of citywide carbon emissions reduction to

60% by 2030.

Mandates that DC government-owned buildings can install

no natural gas furnaces and water heaters starting in 2025

and requires them to be carbon neutral by 2040; and mandates that the DC government purchase

only zero emissions vehicles starting in 2026

.
The Clean Energy DC Building Code Amendment Act
Requires new buildings and substantial renovations to be net-zero construction by 2026 for all commercial and residential 4+ stories.
Bans most natural gas use in new buildings.

Both bills are headed to Mayor Muriel Bowser for her signature. After Congressional review, they are expected to become law in the next few weeks. You can read the full bills here.
Fairfax County Joint Environmental Task Force Recognized
The Fairfax County Board of Supervisors recognized the members of the Joint Environmental Task Force (JET) for our service during their June meeting. I was honored to be among the selected to be a part of the County's efforts to tackle climate change, and appreciated the recognition of more than one year of effort of the group of dedicated individuals. More importantly, I am looking forward to seeing the adopted policy — a carbon-neutral County and Schools by 2040 — in action!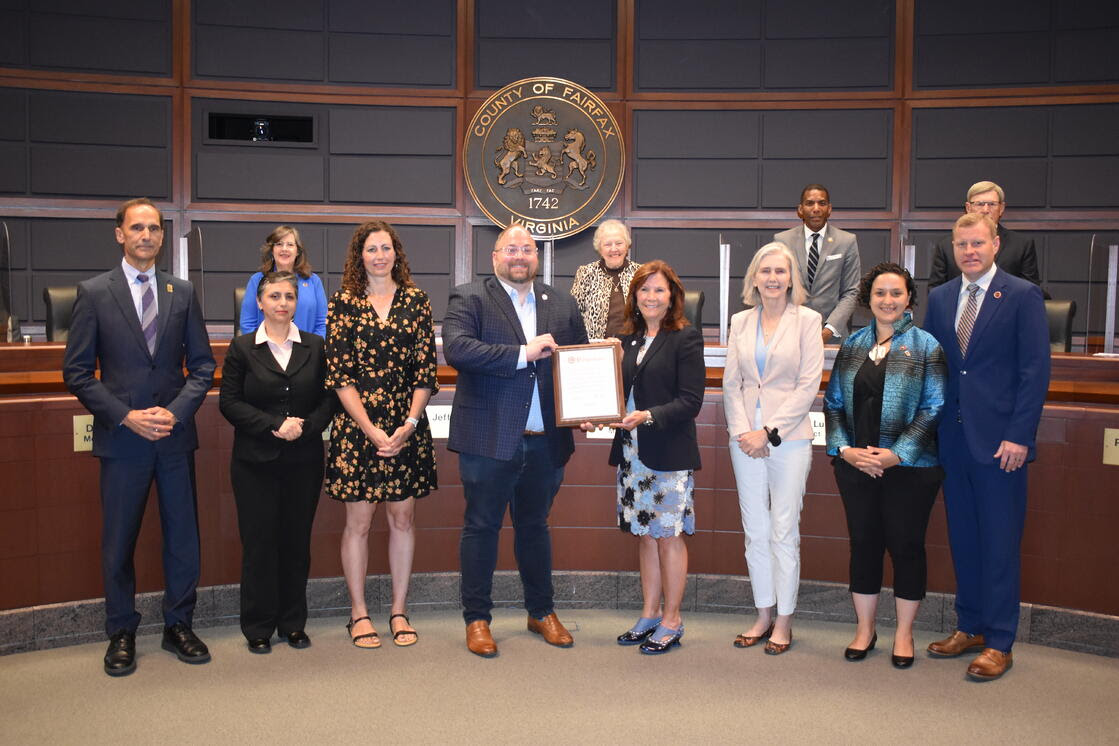 Kicking off the AIA-VA COTE series on Embodied Carbon
I was recently invited to serve as an expert panelist for the inaugural webinar on Embodied Carbon in Virginia. Organized by the COTE (Committee on the Environment) of the American Institute of Architects, Virginia chapter, the webinar — with original content produced by the Boston Society of Architects — focused on embodied carbon issues, key terms and concepts, and health and sustainability implications. One hundred and twenty five (125) attendees learned how the embodied carbon and environmental impacts of building materials and products can be incorporated into design decisions and influence project outcomes. After viewing the rich content, we had a great discussion with much brainstorming on how to implement these ideas in practice.
Understanding embodied carbon and its role in achieving net-zero emissions is essential if we are to increase climate resilience. This AIA Virginia series continues through October 4, with new content and speakers every week. See a full schedule here.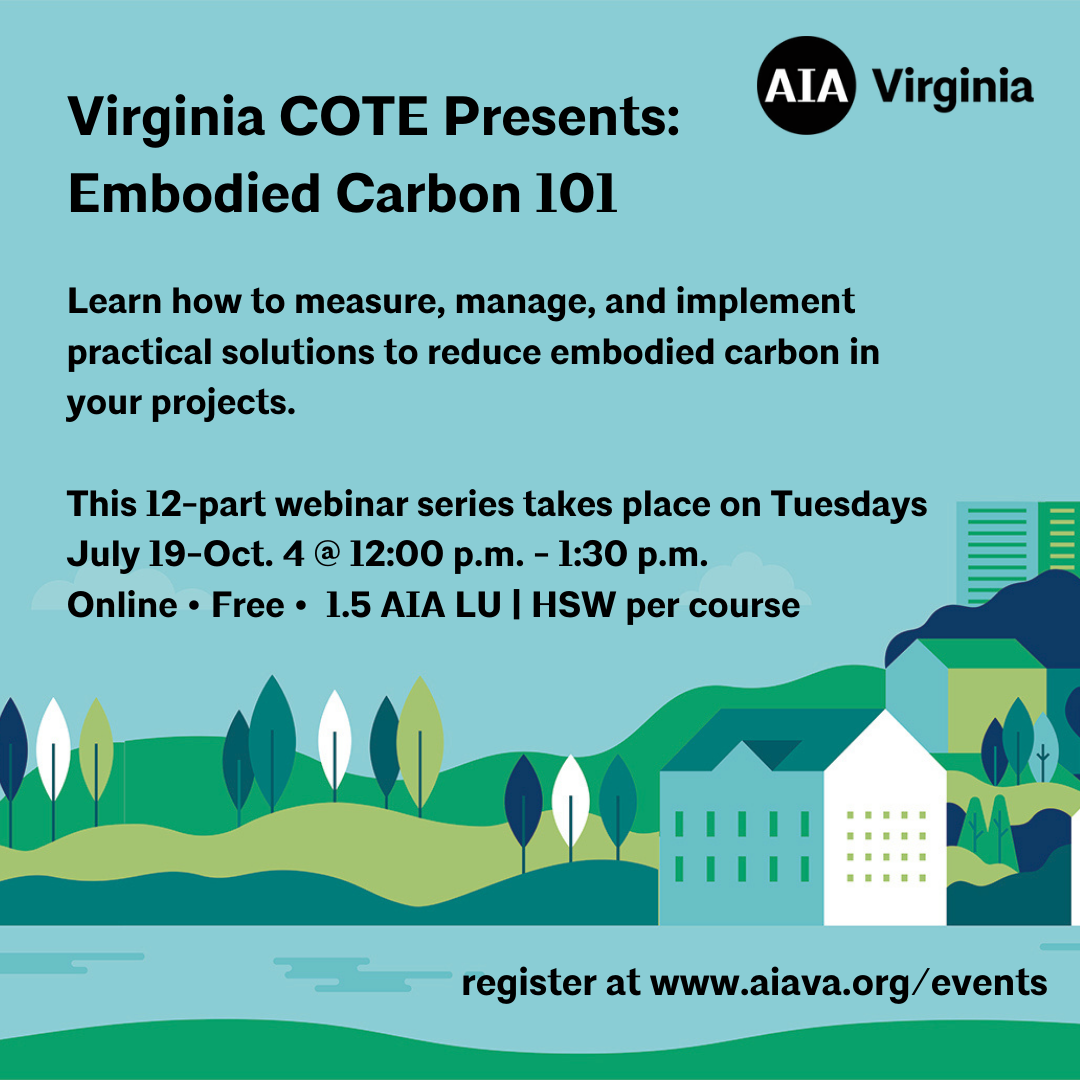 Coming Up! Webinar: Decarbonizing Buildings
A Primer for the Systems Thinker
Please join me on August 18 from 1:15 pm to 2:15 pm EDT for the webinar Decarbonizing Buildings: A primer for the systems thinker, presented online with the George Washington University. Decarbonizing buildings is a step to a cleaner world — but green buildings exist within a whole set of complementary systems: technical, legal, financial. This session will address how to take decarbonization to the next level and consider the supporting system as a whole.
Two hundred (200) people have registered as of July 26. Join them! Register here. Please bring your questions!
Energy Shrink Hosts Mandela Fellow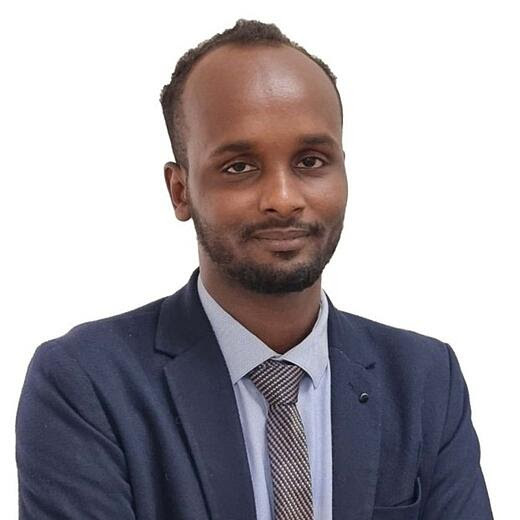 Energy Shrink has been selected to provide Professional Development Experience to Mohamed Ali Abdoulkader, a Fellow under the Mandela Washington Fellowship for Young African Leaders. Mohamed is an experienced professional with expertise in renewable energy, entrepreneurship, and public policy.
The Mandela Washington Fellowship, sponsored by the U.S. Department of State, enables Fellows from across Sub-Saharan Africa to develop their leadership skills and foster connections and collaboration with U.S. professionals. Fellows return home with new skills to spur economic growth and prosperity, strengthen democratic governance, and enhance peace and security across Africa. Please reach out at mail@energy-shrink.com or write directly to Mohamed if you have ideas for positive contributions to Mohamed's U.S experience. His term in Washington is July 21 to August 17, 2022.
Welcome, Mohamed!
Introducing our new Business Manager
Some of you may remember Jennifer Jang who helped manage the business at Energy Shrink for many years and jointly sent out these (beloved!) newsletters with me. Jennifer has moved on to a new role with a non-profit where she is combining her medical project management background and writing skills. We wish her all the best.
Please join me in welcoming our new Business Manager, Maíra Rodrigues! Maíra joined Energy Shrink in May as our new Business Manager, an essential function that allows me to focus on the work of building decarbonization while she handles new business development, project control, and research.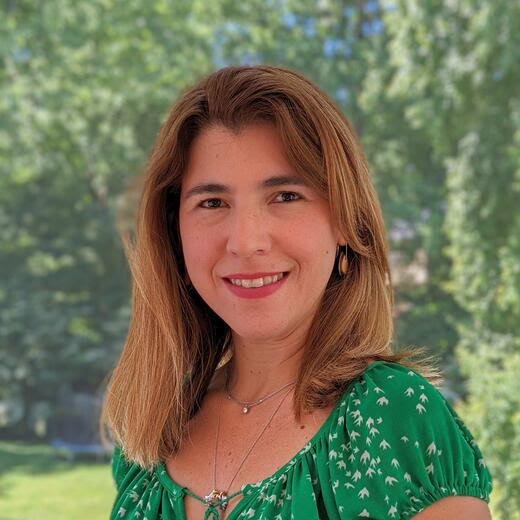 An experienced strategic planning consultant, Maíra has managed projects for more than ten years in education, insurance, public housing, and urbanization and has developed strong team management, research, and financial analysis skills. Maíra was a consultant in the private sector at Monitor Group (now Monitor Deloitte) followed by public sector consulting in a partnership with Macroplan in Rio de Janeiro.
Maíra has a BA in Business Management from Universidade de São Paulo, an MBA from FIA/USP, and an MA in History from George Mason University. She is fluent in Portuguese, Spanish, and English and is currently also working towards her PhD in Latin American History.
Welcome, Maíra
New certifications in DC/MD/VA and MA
Energy Shrink Approved for LDBE, MBE, WBE
Wondering what this alphabet soup is? As new paths for partnerships have opened up in other states and in the DC area at other agencies, we've been getting certified (yet again) as a minority woman-owned small business as per the various requirements and processes of each. We are now:
LDBE in the Metropolitan Washington Area

 (under the Local Disadvantaged Business Enterprise program)

MBE/WBE in Massachusetts

 (Minority-Owned Business Enterprises and Women-Owned Business Enterprises).
The Energy Shrink non-discrimination statement includes these words,
"Energy Shrink is an inclusive organization that values people with diverse backgrounds and experiences. We believe different knowledge, perspectives, and points of view inspire creativity and drive innovation."
Do you believe this too? We look forward to working with you!
"What is gray, has four legs, and a trunk?
"An elephant!?"
"No… a mouse going on vacation!" 
I hope you had a recent chance to go somewhere with a trunk.
On behalf of all of us at Energy Shrink, I wish you a wonderful rest of the summer.
 Sending cool breezes your way,
 Smita Chandra Thomas