2021 Summer Highlights from Energy Shrink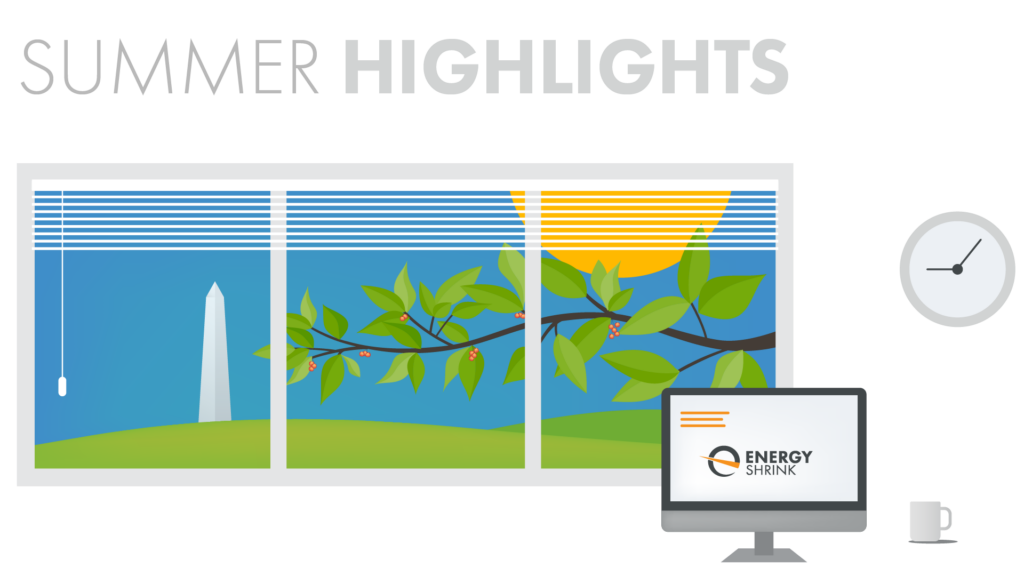 What a summer! The latest IPCC report landed in our newsfeeds, and UN Secretary-General Antonio Guterres declared it a "code red for humanity."  Here, at Energy Shrink, it renewed our motivation to stay on mission in our work towards decarbonization. As you may have read, "While this report is more clear and confident about the downsides to warming, the scientists are more hopeful that if we can cut global emissions in half by 2030 and reach net zero by the middle of this century, we can halt and possibly reverse the rise in temperatures."
The Washington, DC region has been proactive in its carbon mitigation efforts and we are lucky to be an active part of it.
A carbon evaluation framework for utility proposals in DC
The DC Public Service Commission is drafting a framework for evaluating the carbon impact of utility proposals. An active stakeholder engagement process is underway with participation from major DC agencies, non-profits, and utilities. Energy Shrink, in partnership with The Clark Group, is supporting the commission staff with technical advisory services. With other parallel efforts (PSC cases) ongoing in DC, a new path is being charted to meet the city's sustainability goals.
Connected Communities – Grid-integrated Efficient Buildings (GEB), a US DOE funding opportunity
Our concept paper made it to the final round for this important DOE funding opportunity! As co-PI with New Urbana, Energy Shrink partnered with PNNL, Intellimation, George Washington University, Converge, MWCOG, and Synapse, with support from many other local partners and building owners to put together a compelling case for utilizing GEB technology and distributed energy resources (DERs) to not just demonstrate technical capabilities but also to enhance equity in the national capital region. With some of the best minds thinking through all aspects of our approach, we also built a solid coalition of local partners to support us. Here's hoping for a favorable outcome so that we can serve as a role model in the nation's capital.
Have you seen a DC BEPS compliance letter?
It would've looked like this one received by our client (ID redacted).
DC has started issuing letters to building owners that do not meet the city's Building Energy Performance Standards (BEPS). And we have started working for one of our benchmarking clients to assess the cost-effective paths to compliance for them in partnership with Liker EMO. The effectiveness of the BEPS legislation in spurring the improvement of the existing building stock is being felt first-hand!
PHIUS Source Zero home design analysis continued
As part of the comprehensive energy modeling and analysis of design options, we provided daylighting analysis of skylight options in partnership with Neev for this lovely passive home being designed by Peabody + Fine architects. This analysis helped the client to decide where and how many skylights to install. As the construction activity picks up, we will update you with construction photos. Stay tuned!
Did you notice a pattern?
As you might have noticed above, we deliver projects in collaboration with other effective and collaborative partners. While the pandemic has put a wrench in our in-person networking activities, we have continued to collaborate with many partners virtually on several interesting proposals. By way of this newsletter, we are inviting you to initiate a dialog with us if you'd like to partner. Don't hesitate to reach out to explore possibilities.
Something cool at Fairfax Schools
It's quite cool when you receive a letter from the school system that your kid attends and it says that the board has adopted the recommendations of the Joint Environmental Task Force to become carbon neutral by 2040 (link to report), and your name is listed as an author of the Energy chapter!  #globalcitizens #localaction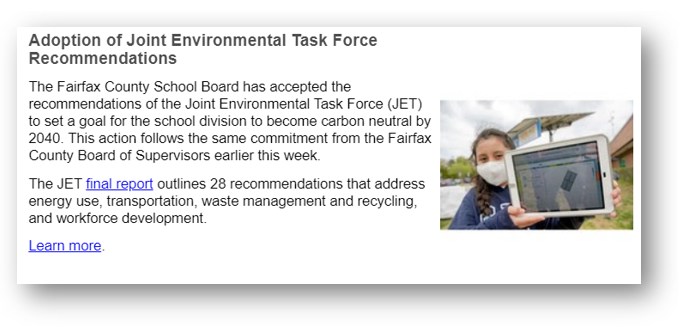 Speaking of Schools
We made it to the interview rounds for BECx (building envelope commissioning) for Alexandria Public Schools in partnership with Coleman Consulting led by Lilker EMO. Fingers crossed for a chance to contribute here.
In case you missed it: we were in our first podcast!
We have been featured on the Energy Nerd Show! Produced by Climable.org and Synapse, the show offered Smita a platform to speak about a building feature she is passionate about righting the current global trend on. As a recovering architect with deep experience in the energy modeling of passive building design features, she is keen to explain why we MUST stop buildings fully clad in glass while we are in a climate emergency. Watch these brief videos that are quick, quirky, and chockful of information! (And follow the Energy Nerd Show for other insightful episodes):
We also spoke at …
All Sides of Resilience, a webinar hosted by the Security and Sustainability Forum, introduced the online Energy Resilience Certificate course offered by the George Washington University. The intro to Decarbonizing Buildings to be taught by Smita, and all 7 courses, can be viewed here.
Upscaling Resiliency at the Montgomery County Energy Summit. With Demetra McBride of Arlington County and Annette Osso of Resilient Virginia as co-presenters, Smita focused on Resilience in Buildings. Although not free, the recordings can be accessed here.
Demand Management for Campuses organized by the Alliance for Energy Service Professionals (AESP). Along with Andrew Holden of Intellimation, Smita focused on Design, Modeling and Implementation for decarbonization. The webinar can be accessed here.
Internationally, we will be on the panel: The Zero Game – Net Zero Buildings at the Ghana Green Buildings Summit in September. Smita also presented on Zero Carbon certification on behalf of the IFC (World Bank) EDGE Green Buildings program to a highly engaged audience in Latin America that is eagerly embracing the zero emissions and sustainability concepts.
Mentoring the Next Generation
The New Buildings Institute has initiated an excellent program to mentor the next generation interested in learning how to build for zero emissions. Smita Thomas has been selected as a mentor in the inaugural cohort in this program.
We have an internship opening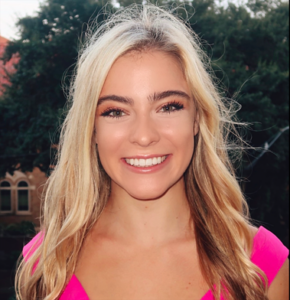 The Energy Shrink Team has an opening for a Marketing and Research Intern as we bid adieu to our summer intern Emma White. Emma begins her senior year at the University of Texas at Austin, double majoring in Sustainability and Geography. During her virtual summer with us, Emma was "excited to learn more about green buildings and business development in the DC-metro region". In her free time, Emma enjoys hiking and reading.
On a lighter note
Question: How much does it cost to install a chimney on a house?
Answer: Nothing. It's on the house!
21st-century Answer: A chimney! Ha Ha Ha… 🙂
Winding down the summer, from all of us at Energy Shrink,
Warm regards,
Smita Chandra Thomas and Jennifer Jang